Advance Training & Certification by RICHS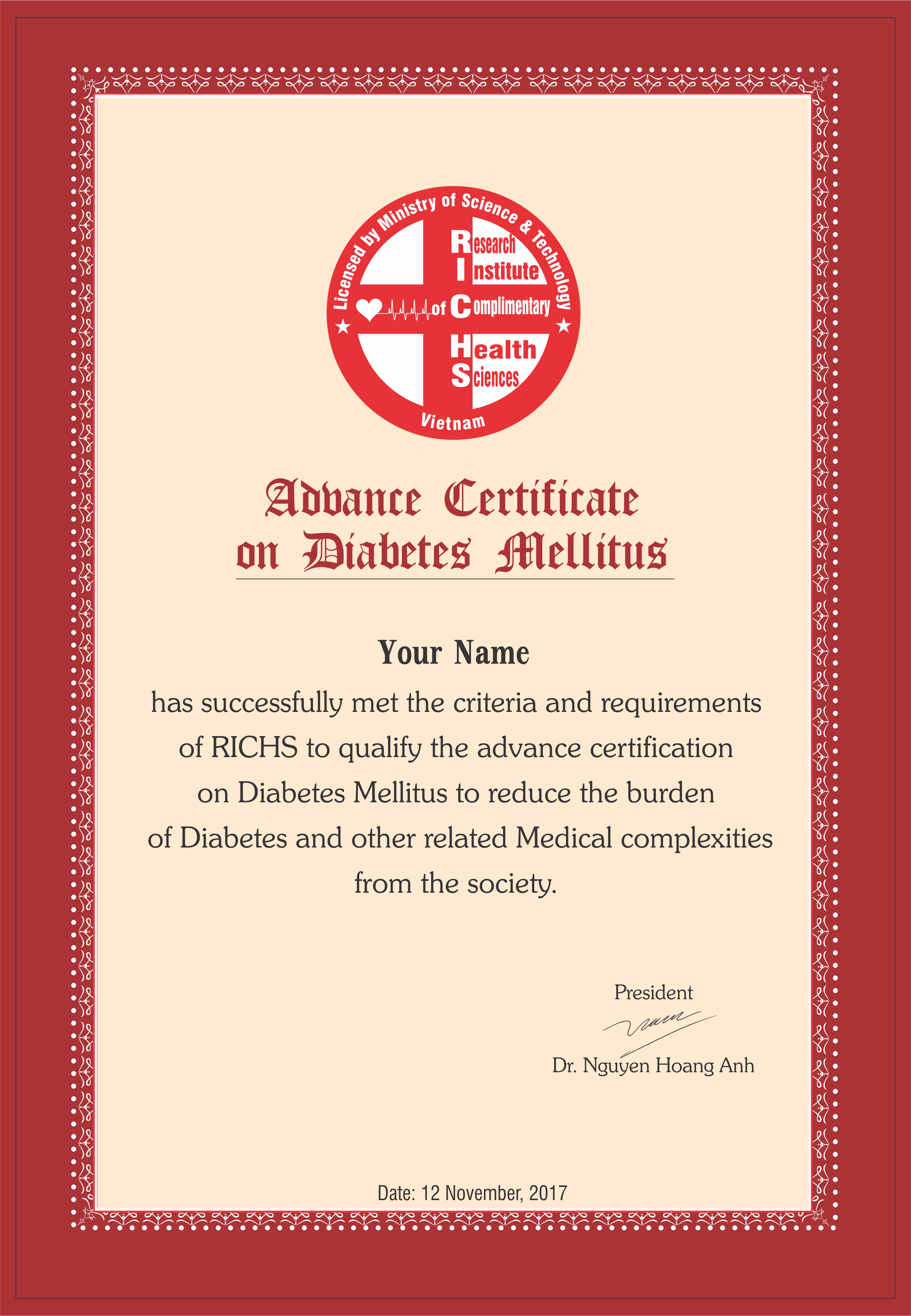 NOTE : Research Institute of Complementary Health Sciences (RICHS)
can be pursued only by those who are Certified Diabetes Educator from Indo-Vietnam Medical Board.
Research Institute of Complementary Health Sciences (RICHS) is set-up and licensed from Ministry of Science and Technology, Vietnam Government, with the goal to achieve the following:
1) Research in the field of "Food as Medicine" to cure life style diseases .
2) Training Health Professionals, so as to create Certified Diabetes Educators not only in Vietnam, but also in nearby countries.
3) Identifying, honoring and awarding the health care professionals/organizations who are doing worthwhile work to reduce the burden of lifestyle diseases from the society.
4) Integrating the modern medicine with ancient wisdom to create a holistic health care system .
5) Educating the patients by means of publishing books, conducting training programs and online activities to make them more self-reliant and achieve better health.
Dr. Biswaroop Roy Chowdhury is appointed as a member of the 'Advisory Committee' with the goal to lower the burden of Diabetes and other related Medical Conditions from the society .
So to achieve a certified Advance Training by RICHS, please go through the following procedure.
DURATION: 3 Months
Guidelines:
Advance Training & Certification by RICHS will be completed in six steps.
Step-1 : Submission of Application form .(will be sent in attachment)
Step-2 :Depositing admission fee (along with transaction receipt or reference number in attachment).
Step-3 : Qualifying the questionnaire( will be sent on request )
Step-4 : Submission of two testimonials(handled by you after qualifying Diabetes Educator's Certification Training) along with Answer Sheet .
Step-5 : Declaration of the result through email.
Dispatching of the RICHS certificate, after 30-35 days of declaration of the result.
Requirements:
1) Correspondence Address (Permanent Address) for dispatching "Advance Training & Certification by RICHS" and 'Diabetes Free World' Book
2) Your Full Name as you want in your certificate .
3) Brief introduction about yourself ( educational and professional qualifications)
4) Choose your preferred language for study material (Hindi/English)
Material to be given:
1) Advance Training & Certification by RICHS
2) 'Diabetes Free World' Book
3) 'New Diabetes Guidelines' Book
Certification Fee (For Indians) : Rs. 5000/(Courier charges included)
Certification Fee (For International) : Rs. 5000/ (Shipping cost of material is not included in the certification fee and may vary,depending upon the country you want your order to be delivered)
The head office of RICHS is at:
Bimemo Consultancy & Health Care Center
34/5 Trần Khánh Dư St., Tân Định W., Dist. 1, HCM City, Vietnam.
For more detail Email: [email protected] or Phone & Whatsapp: +91-9312286540