Product Description
Headache relief in 2 steps
Step 1: Open the cap
Step 2: Sniff the oil
The "2 Seconds Oil" given along with this book 'Relieving Nations's Headache', has a sharp/ pungent smell. When you sniff this oil, it tears through your "blood brain barrier" and affects your "Limbic Sense System "and "Hypothalamus" glands.
"It is assumed to stimulate your Neural Activity and triggers the nerve impulse" and in this way, with this oil, you can think of getting rid of your headache within two seconds. This "2 Seconds Oil" is highly effective because it reaches directly to the brain through the only door i.e. nose.
However, there is a need for observing a little precaution because the smell of this oil is very strong. Because of this you are cautioned to first sniff it lightly to find out how much pungency your nose can withstand. In case you sniff it in a higher dose, you may feel a little discomfort for a few seconds. This however will go off in a few seconds and with that your headache also would be gone.
In this way we can conclude that it is the fastest way to get rid of headache. The ingredients of this oil are totally safe and without any side effects.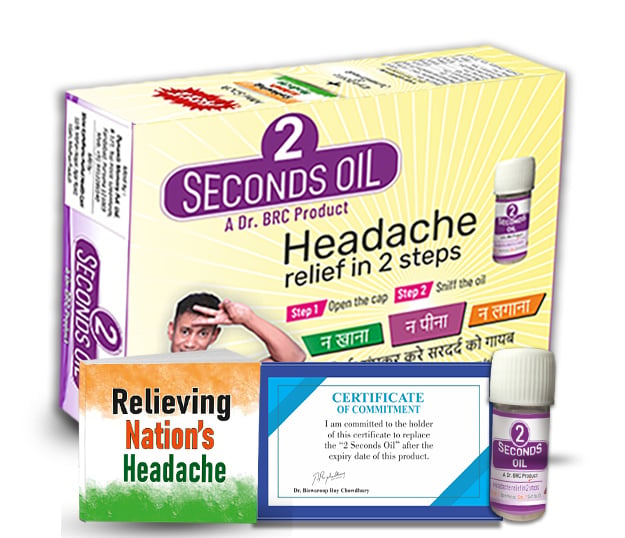 The box contains:
2 Seconds Oil (1 bottle – net weight -2ml)
Certificate of Commitment
One booklet both in English and Hindi language 'Relieving Nation's Headache' ' देश का सिर दर्द करे दूर'

Ingredients of Oil are (Each 1ml contains):
Sarson Oil -0.20ml
Mentha X Piperita-0.20ml
Trachyspermum Ammi – 10ml
Camphor-0.10 ml
Brassica Hirta – 0.10ml
Ratanjot -0.10ml
Cinnamon-0.10ml
Syzgium Aromation-0.10ml
Allium Sativum -0.10ml
Tarpin Oil-0.10ml
Zingiber Officinale 0.10ml