If you are planning to conduct CORONA-HAVAN on 30th Nov, then let us know about it. Please fill this FORM
1. Mortality Coding of Covid 19 with ICD 10 Codes
Link: https://nidm.gov.in/covid19/PDF/covid19/state/Himachal%20Pradesh/257.pdf
2.Extracts of statements made by the leading participants at the public hearing on "The handling of the H1N1 pandemic: more transparency needed?", organized by the Committee on Social, Health and Family Affairs of the Parliamentary Assembly of the Council of Europe (PACE) in Strasbourg on Tuesday 26 January 2010:
Link: http://www.assembly.coe.int/nw/xml/News/FeaturesManager-View-EN.asp?ID=900
3. Community and Close Contact Exposures Associated with COVID-19 Among Symptomatic Adults ≥18 Years in 11 Outpatient Health Care Facilities — United States, July 2020
LINK: https://www.cdc.gov/mmwr/volumes/69/wr/pdfs/mm6936a5-h.pdf
4. Repurposed antiviral drugs for COVID-19 –interim WHO SOLIDARITY trial results WHO Solidarity trial consortium*
Link: https://www.medrxiv.org/content/10.1101/2020.10.15.20209817v1.full.pdf
5. COVID19 PCR Tests are Scientifically Meaningless
Link: https://bpa-pathology.com/covid19-pcr-tests-are-scientifically-meaningless/
6 & 8. Diagnosing COVID-19 infection: the danger of over-reliance on positive test results :
Link: https://www.medrxiv.org/content/10.1101/2020.04.26.20080911v4.full.pdf
7. EMERGENCY USE AUTHORIZATION (EUA) SUMMARY COVID-19 RT-PCR TEST (LABORATORY CORPORATION OF AMERICA)
Link: https://www.fda.gov/media/136151/download
9.Increased risk of non-influenza respiratory virus infections associated with receipt of inactivated influenza vaccine
Link: https://www.ncbi.nlm.nih.gov/pmc/articles/PMC3404712/pdf/cis307.pdf
10. COVID-19 Pandemic Planning Scenarios
Link : https://www.cdc.gov/coronavirus/2019-ncov/hcp/planning-scenarios.html#table-1
12. COVID-19 and frequent use of hand sanitizers; human health and environmental hazards by exposure pathways
https://www.ncbi.nlm.nih.gov/pmc/articles/PMC7320712/
13. N.I.C.E way to Cure COVID-19
14. COVID-1981 – Virus & The Vaccine
15.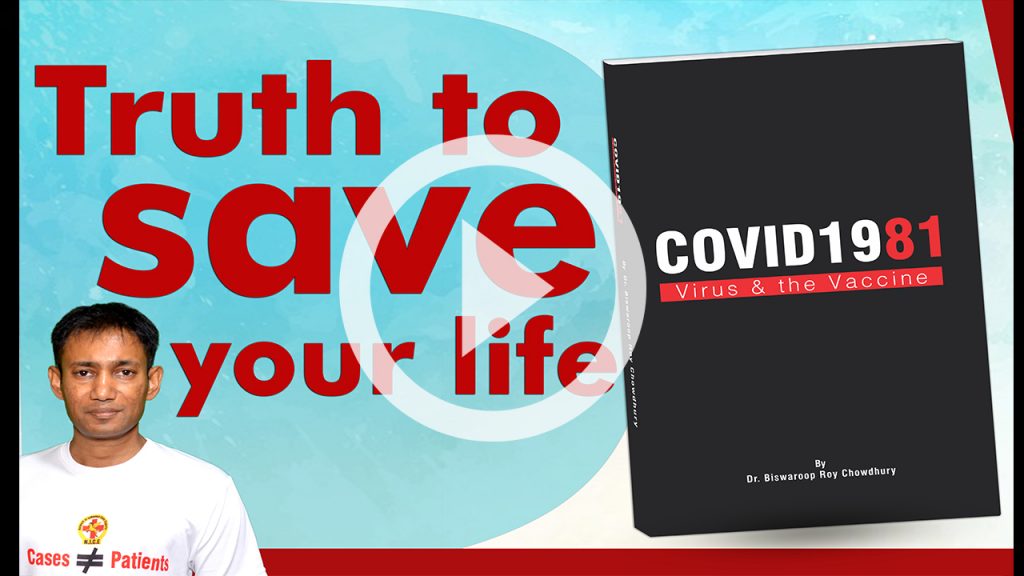 ---
16. Builder, 51, who died after falling from a 10ft ladder was actually killed by a coronavirus, doctors say
Link: www.dailymail.co.uk/news/article-8958309/Builder-51-died-falling-10ft-ladder-killed-coronavirus.html
17. Please take the printout of the image, to be used in Corona Havan (Presentation)

www.biswaroop.com/coronahavanslides
Cure in 3 steps @ Home
---
[wrc_column grid="2″ width="1″ type="start"] [/wrc_column] [wrc_column grid="2″ width="1″ type="end"]