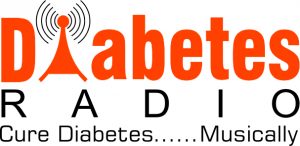 'Diabetes Radio' is world's first 24hrs Internet based interactive Radio Station, dedicated to diabetes patients to help them, to get freedom from 3D's namely Drugs, Doctors and Diabetes.
It is a first of its kind Radio Channel, wherein help is available at a click of a button!
Diabetes has been compromising lives of millions of people worldwide. We wish to extend our support by imparting Diabetes Education in a musical Way! Being rendered as a complicated disease, in diabetes; you will see that it's surrounded by number of myths. However, there is always a silver line behind the clouds; so here is a myth buster, drug buster and lifestyle changer app in your finger tips !
Through this Diabetes Radio, listener will notice that 99% of all questions are common among 70+ million diabetes population. That is why, by mere listening to this 24X7 'Diabetes Radio', the common listener can educate oneself to manage and control diabetes!
'Diabetes Radio' is especially very useful and handy to Type 1 children, whose number is increasing at an alarming rate worldwide, especially in the developed nations including India. Concerned parents are often stressed with the amount of Insulin intervention, as the diabetic child may land up in Hypoglycemic or Hyperglycemic condition. Their worries require immediate attention, wherein many a times, even doctors are unavailable! Through this 'Diabetes Radio', they can relax as expert advices are a click away.
The Diabetes Radio App is a miracle initiative of World Renowned Medical Nutritionist and Diabetes Expert. Download this from Android 'Playstore'. (search diabetesradio and install in your android device. App version for Apple store coming soon)
With the launch of this 'Diabetes Radio', Dr Biswaroop Roy Chowdhury has empowered 70+million Diabetic patients of India, to manage, cure and reverse Diabetes without complex and costly medications and even visiting doctors. It is scientifically proven that Diabetes is not a disease but a business of pharma industry. You can regain your lost health again strictly following, personalized changes in eating and life style habits. You will learn about these powerful tools and techniques while listening populat bollywood songs.It sounds pleasantly to ears.. truly matching the theme of Diabetes Radio app  'Cure Diabetes ………………….musically'.
Download from :