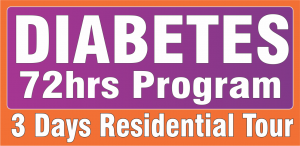 10th – 12th May 2019

Johor, Malaysia

What is Diabetes Cure Residential/Virtual Tour?
Vietnam's biggest newspaper published success story of "Diabetes Cure in 72hrs- Residential Tour" on 27 May, 2017
---
Venue: Johor, Malaysia
Date: 10th, 11th & 12th May 2019

How to Enroll:

Send your duly filled Diet & Medication (DAM) Form and medical reports to

[email protected]

.

Our medical team will go through the DAM Form & medical reports and shortlist your name.

The shortlisted candidates can book their seats for the Diabetes Residential Tour.

The total fee for the 3 day "Diabetes Residential Tour" is 6500/- MYR (Malaysian Ringitt) per participant.

Limited seats are available so the admission will be on "First Come First Serve and sharing Basis".
Program Details:
Participants must report on

9th May

-2019 after 6pm.
Program starts at

6am

on

10th May

-2019(with fasting blood sugar testing).
The program ends at

2pm

on

12th May

-2019.
Note:
The fee is Non-refundable.
For personalized assistance give us a call on- Malaysia Contact No: +60 11 37386402 India Contact No: +91-9312286540 or shoot us a mail at [email protected]
To know more about our residential program watch the video:
Diabetes 72hrs Program – 3 Days Residential Tour
29 March , 2019 – 31 March, 2019 , Vietnam
Diabetes 72hrs Program – 3 Days Residential Tour
27th April , 2018 – 29th April, 2018 , New Delhi, India
72hrs- Diabetes Program (Residential Tour) -2018 Malaysia
72hrs- Diabetes Program (Residential Tour) -2017
72hrs- Diabetes Program (Residential Tour) -2017
72hrs- Diabetes Program (Residential Tour)-Vietnam
72hrs- Diabetes Program (Residential Tour)-2016
72hrs- Diabetes Program (Residential Tour)-2015