More than 5000 Diabetic participants got immense benefits in last one year.
Some of them were small children (diabetes type I) as well. Know about their success story in our Book.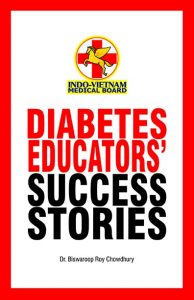 Join

VIRTUAL TOUR-KEY FEATURES:
Virtual Tour is Home Based Program where a patient will be Monitored, Supervised and Guided by Dr. Biswaroop Roy through

'Diabetes72'

app as per-Scheduled Dates.

Patient has to stay at his/her own home for these 3 days.Treatment is based purely on the concept of "FOOD AS MEDICINE" through whole food plant based diet (raw).Tailor made diet after analysing BS level will be prescribed on individual basis. No medicine are prescribed during this program.

This treatment program continues for 3 Days from 6 o clock in the morning till 10 o clock in the night everyday for 3 days.

Expected Outcome – Food to work as medicine to attain optimum Blood Sugar level.

Our Previous Results: 90% of the Type-2 patients are free of diabetes medications with sugar level in healthy range. 30% of the Type-1 patients are free of insulin with sugar level in healthy range. 60% of Type -2 insulin dependent patients are free of insulin with sugar level in healthy range.
How to Join Personalized "ONLINE/VIRTUAL – 72 hrs Diabetes Program"
Step-1: Send your duly filled Diet & Medication (DAM) Form and
Step-2: Our medical team will analyze the DAM form along with medical reports and send you a confirmation (your eligibility to participate in the program).
Step-3: Complete the Registration cum payment formalities:
Registration Fee for National: INR 15,000/-
Registration Fee for International: INR 15,000/-
Step-4: Post payment confirmation from accounts, your Virtual Kit will be couriered (Kit information underneath).
Step-5: Wait to receive the Time-table, Activity Scheduler or working protocol, Ingredients list through email; you get two entire days to arrange for given ingredients.
Step-6: From Day 1, the medical team will assist you through 'Diabetes72' app round the clock for 3 days
Note: International Participants will follow their own time zone
PERSONAL RESPONSIBILITIES

Very carefully listen/watch and understand Dr. Biswaroop Roy Chowdhury's audio and video given below.

Carefully understand the requirement list and activity time-table; arrange items on time, in case of non-availability of any ingredient report before Day 1 of the tour.

During those 3 days, complete association with deep concentration is expected from the participants for the success of the tour.

One helping hand (wife/husband/mother/father/brother/sister/cook) should be there to assist you throughout the 3 days; especially to arrange the meals.

International participants are expected to follow the instructions according to their respective time zones; as on-time Monitoring and supervision will be provided.
VIRTUAL-TOUR KIT INFORMATION

Kit Includes –
Hunza Tea


Last Days of Diabetes -Book

Recipe to Cure Lifestyle Diseases -Book

Diabetes Educators' Success Stories -Book

Indo-Vietnam Medical Board folder & pen


Activity Scheduler/ Calendar

Diabetes Free World -Book

New Diabetes Guidelines – Book
*Participants residing outside India will receive the below-mentioned e-books as VT-KIT
Diabetes Type I & II – Cure in 72hrs e-book

Last Days of Diabetes e-book

Recipe to Cure Lifestyle Diseases e-book

Diabetes Educators' Success Stories book (pdf)

Diabetes Free World e-book

New Diabetes Guidelines Book e-book
(NOTE: Participants residing outside India can also order VT-KIT through courier. In this case courier charges are to be paid extra)
For more information please call:+91-9312286540 or Email: [email protected]
Dr. Biswaroop's Profile
Here are the glimpses of the activities that took place in our 72hrs – Diabetes Program